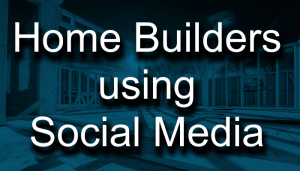 Social Media and the housing industry are a perfect match. Being very visual, social media gives you a chance to show off your work to a wide audience. Post an amazing picture of your work, it gets shared and you reach so many more people that an article in the paper or a spot on the radio would not. You can also build your brand reputation. If someone sees that a friend likes your work they are more likely to want to deal with you. Social media also gives you a chance to interact with your customer and potential customer. It gives you a chance to show off your expertise by answering questions quickly and posting expert tips. You can also run ads to target just the people you want to target.
Social Media and Homebuilding
For homebuilders, providing engaging content for followers is a very specific art. The most effective way for homebuilders to market their content to followers is to use visuals in social media.
Twitter
The nature of Twitter is such that users see constant updates in their feed. Posts are short and to the point. Tweeting a catchy or interesting line along with an image of a new type of home, feature or company event can really pack a punch because your followers will be instantly alerted to what you have to say.
Facebook
Lots of companies are using Facebook to get the word out. This social network lends itself very well to the use of images. Providing a link to a new update or feature on your company's website, for example, will be much more interesting when using an image of your company's work or services to go along with it.
Ultimately, whatever your social media preference, the purpose is to make your clients comfortable and show that you care about them by interacting with them and, of course, showing them—literally—what your company is capable of.
By giving you the opportunity to openly engage with those who may have questions about your homes, you are increasing the likelihood that they will choose you as their partner to build a new home.
Share New Home Photos as Albums
Home buyers LOVE photos!  If you complete a new custom home or a new build in a community, get some professional photos taken and load them onto your Facebook page.  In this industry, you can never have enough photos.
Ask Questions
One of your challenges, as a custom home builder, may be finding new customers. So one of the best ways that you can both attract new customers and find ways to identify why you aren't acquiring as many customers as you could be is to use social media to ask questions.
Consider posting questions on Facebook and Twitter like:
What is stopping you from buying a new home?
What questions do you have about the construction process?
What do you consider a must-have in a custom built home?
Where did you hear about us?
Have you heard anything negative about custom built homes?
What would your dream home look like?
The answers to these questions could be very revealing. They could also create some amazing opportunities for discussions with potential leads. For example, someone who is casually researching custom builders might be on your Facebook page, see the last question your list, and answer it without realizing that you have a home model exactly like what they are looking for!
Social media is all about engagement. By asking questions, listening to the responses, and engaging with those who take the time to speak with you, you can learn a lot, improve your brand, and increase the likelihood that these fans will become a paying customer in the future.
Finally, those who have joined you on your social media pages are likely interested not only in home ownership, but also in home maintenance, some degree of interior decorating, and other relevant home topics, correct? By sharing relevant content with them, you can increase their appreciation of you, and show that you are interested in building a two-way relationship with them—not just getting them to buy something.
Embracing Social Media
In the era of modern technology, it can be easy for your business or company to fall behind those who appear more tech savvy….
 Get Creative with Instagram
Want to sell your homes 30 percent faster? Statistics show that a good photo (or two or three) will help you attract potentia…
Trish Clark
Trish@pg-designs.ca
http://pg-designs.ca
https://twitter.com/PG_Designs
https://www.facebook.com/PGDesigns.Ca