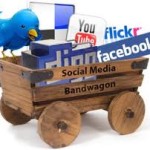 Social Media Package Pricing
Your customers expect to see you on Facebook. Let our Social Media Specialists help establish your online presence.
| | | | | |
| --- | --- | --- | --- | --- |
| Our Packages | Basic | Essential | Premiere | |
| Dedicated Social Media Manager | ✓ | ✓ | ✓ | ✓ |
| | ✓ | ✓ | ✓ | ✓ |
| | ✓ | ✓ | ✓ | ✓ |
| | 5/week | 5/week/social media | 5/week/social media | ✓ |
| | ✓ | ✓ | ✓ | ✓ |
| | ✓ | ✓ | ✓ | ✓ |
| | ✓ | ✓ | ✓ | ✓ |
| | ✓ | ✓ | ✓ | ✓ |
| Package Features | Basic | Essential | Premiere | Custom |
| Package Prices: | $100/month | $300/month | $400/month |   |
PG Designs offers Social Media Packages to simplify your online marketing! Not having your business represented online is no longer an option. The account experts at PG Designs understand Social Media, and know how to utilize it to increase your online business presence. Social Media Management can be time consuming and often requires a creative understanding of one's brand; the social media consultants at PG Designs will not only monitor and update on your company's behalf,but will also develop an understanding of your unique business perspective and goals. No other Social Media Company offers the level of personal attention that PG Designs guarantees! The content PG Designs posts will be catered toward your individual company's perspective, and will be aimed at driving sales and increasing your online presence. Many businesses encounter an issue translating social media into increased profit: let PG Designs handle the technical aspects, while you reap the benefits!
In its simplest form, Social Media provides a platform where customers can discover information they need to make purchase decisions.
What does a Dedicated Social Media Manager do for me?
With your package, you will be assigned a dedicated Social Media Consultant that will monitor multiple aspects of your brand's online presence, from the creation of personalized online content, to monitoring and tracking your accounts. Your Social Media Manager will engage customers on your behalf, in real time, answering potential and current customer questions,while removing SPAM and tracking the analytics of your online accounts. For events, specials, or anything that you'd like to share, you will be able to contact and schedule with your personal Social Media Manager, thus ensuring up to date relevancy for your accounts.
PG Designs creates Custom Branded Graphics for your Social Media Properties.
Customized social media graphics will help to maintain consistency across all of your businesses social media accounts, and will increase brand familiarity and exposure.From Google+ cover photos, to Facebook, Twitter backgrounds and LinkedIn banners, PG Designs will create incredible, custom graphics that will relay a level of familiarity and professionalism to all current and new fans. If your business already has awesome graphics, we will adjust those to fit accordingly for each social site! Cohesive branding will allow potential customers to establish a level of intuitive familiarity around your brand.
Content Creation
PG Designs will create specific, unique content centering on your company's product or business, as well as your specific social media goals. Some social media sites dictate more of a professional tone, whereas others have a playful vibe; depending on which package you choose, PG Designs will create content that speaks not only to those engaging on the specific platform, but also to your business audience. If you have an event, special, or anything at all that you'd like to post, you will also be able to contact your Social Media Manager to have them schedule posting that specific content for you! With PG Designs, you dictate your personal involvement in your companies' social media, knowing that experts have the reigns.
Daily Posting and Tweeting
The dedicated Social Media Managers at PG Designs are well versed in "Best Social Media Practices". This knowledge directly translates into increased, active online presence for your company! Such practices include specific time scheduled posts, real time engagement, and different types of content throughout the day/week. Studies have shown that different audiences engage more at specific times, and that people are looking for different things at 11am on a Monday, versus 3pm on a Friday. Although the package you choose will dictate the frequency and where PG Designs posts, these Social Media Best Practices will always be integrated in all that we do.
Comment Responding
The best, most underutilized aspect of Social Media engagement revolves around customer service. Posting relevant content twice a day doesn't do any good, if no one is interacting with your customers! Your Social Media Manager will monitor your social media sites for comments and questions, and will write back on your behalf. If they are unsure as to the answer to a question, they will immediately contact you before proceeding. These practices are imperative to giving consumers the assurance that your company is on their side and are producing a product/service that they stand behind.
SPAM Monitoring
Spam is an unavoidable part of the internet, whether it be from a bot or a specific disgruntled person posting inappropriate content. Real time engagementensures that Spam will be monitored and immediately removed. There are varying levels of Spam, some are bulk messages, others are commercial, some personal; PG Designs will individually assess each communication and will act accordingly to varying degrees of Spam messages.
Real-time Reporting
Page Insights are available for Facebook, LinkedIn, and Google+ and offer data as to who your audience is, when they are looking at your Social Media Business pages, and most importantly, what people are engaging with. These insights are critical to seeing your return on investment, as well to helping understand your audience and cater posts directly to them. Your analytics, as well as Social Media Company pages, will always be accessible to you. PG Designs will also send you monthly reports on your social media analytics, further helping you chronicle results.
Some Common Questions